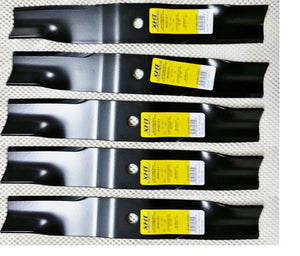 The Best Mower Blades in the Industry
Here at D&M Supply we strive to sell the best lawn mower blades in the industry.  We sell heavy duty XHT and Predator lawn mower blades.  Lets take a look at the specs of each.
XHT Blades
XHT blades feature a unique patented and independently tested Marbain® heat-treated steel that offers increased hardness as well as resistance to bending and impact damage. This results in a cutting edge that stays sharper, longer making XHT blades approximately 25% - 40% harder than standard lawnmower blades, providing the tightest tolerances when comparing all-makes blades vs. original equipment blades.
Predator Blades
Predator blades offer all of the features of the XHT blades with superior mulching capabilities over traditional mulching blades. The airflow tooth design increases blade strength while producing more airflow for smaller clippings. Predator blades come in two popular styles.
Predator combines the "hump" found in traditional mulching blades with our Predator tooth design producing more airflow and smaller clippings. Predator 2 provides the flat blade design preferred by most commercial mowers with an extended cutting length for increased cutting efficiency. 
To find the correct blades for your application, visit our lawn mower blades page.  You can search by your mowers OEM number or search by manufacturer. It is always imperative to match your OEM number to ensure you buy the correct blades to fit.
For questions Contact US
---